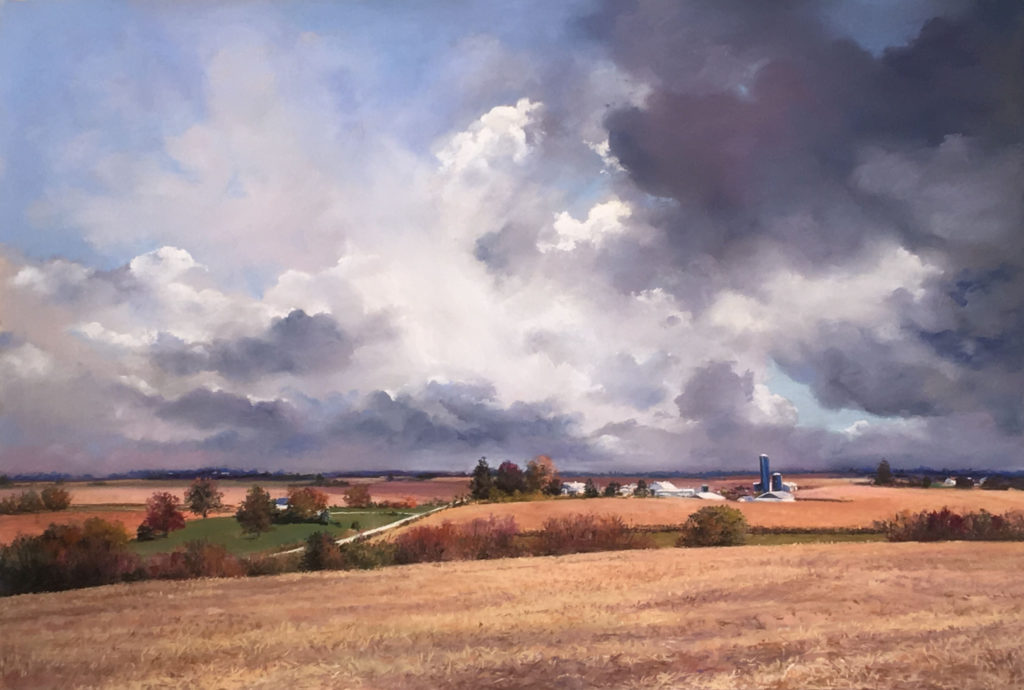 Mary Swander was delighted to interview Marcia Wegman for AgArts from Horse and Buggy Land, S1 E5. Above is Marcia Wegman's Passing Country Storm.
Artist Statement, Marcia Wegman:
"The Midwest landscape has surrounded me all of my life.  Having spent most of my childhood in Ohio and my entire adult life in Iowa, it is the images of these vistas which periodically inspire me to try a new way of expressing this subtly beautiful landscape.  I enjoy hiking in some wilder parts of the country so am also challenged by the unique forms of beauty found in each of these places.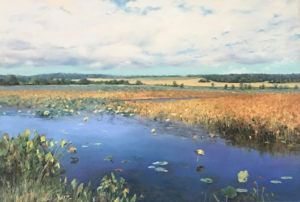 In the past I have worked in acrylic and collage, now I am using the medium of soft pastel to capture the qualities of undulating hills, overlapping rhythmic forms, textures of trees and vegetation, rich colors, dynamic patterns, changing light, and always, the sky.  The land remains constant, the colors transform subtly from season to season, but the sky is an ever-shifting panorama of light, color and form.  The possibilities are limitless.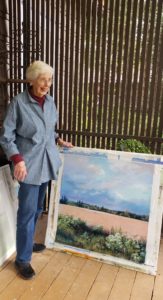 "The immediacy and directness of pastel is the quality I most value in this medium.  I feel I am able to best approximate and express the ephemeral and very magical essence of light as it moves across the land through pastel painting." (Above, Lotus Pond and below, Autumn Creek, both by Wegman. Left, Marcia Wegman)
Artist Statement for show of abstract paintings, Marcia Wegman:
"Although pastel landscapes occupy the major part of my studio time, I periodically set aside the pastels and bring the acrylic paints, brushes, assorted tools and YUPO paper up from the basement into my studio which is an integral part of my little cottage of a house. I am always excited to find out what will result from what is generally a two-week period of exploration, experimentation and play with paint. Because it is such a different approach to how I create the pastel landscapes, it is like a palate refresher between courses of an elegant dinner.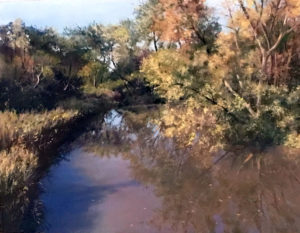 "YUPO, the paper I worked on for this show, is a slick plastic paper made in Japan for commercial use in packaging and printing but taken up by artists, especially watercolor painters.
"I have nothing particular in mind when I begin a new abstract painting. I start out by choosing two or three colors to work with. Knowing this group of paintings would be shown together I consciously tried to use very different color combinations so each painting would be unique. The first layer or two of painting is applied quickly and spontaneously with a variety of brushes and tools. Each subsequent layer is applied more slowly and thoughtfully. Composition and color relationships are of primary concern with mark making also of importance. I use a lot of Venetian plaster in the layering which I sand down to reveal a bit of what is going on underneath. The painting is finished when there is nothing I want to change or add.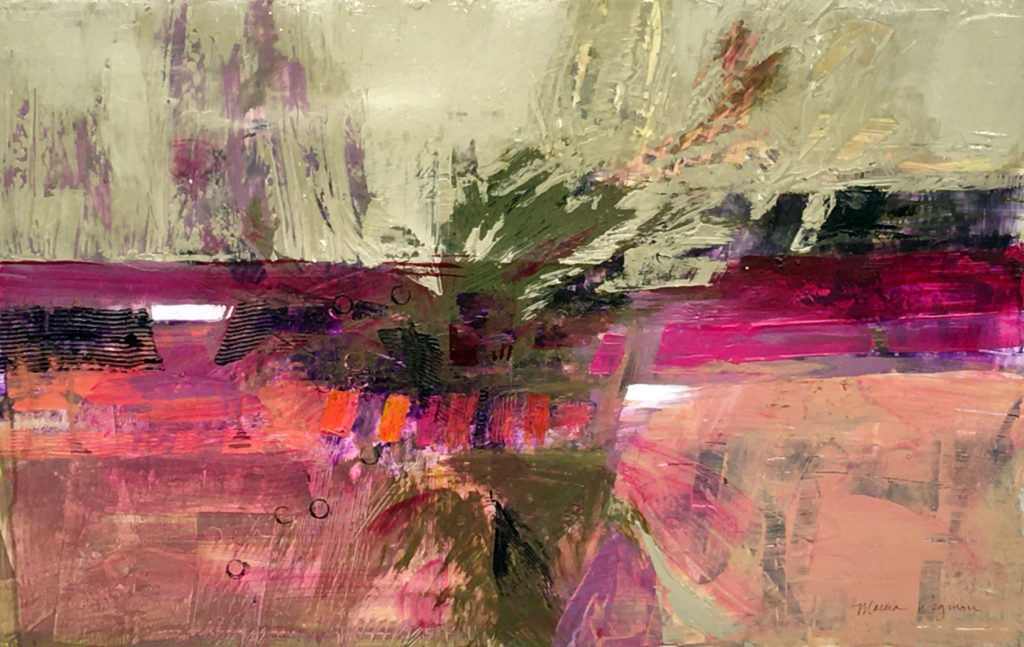 "I have won quite a few awards in international art magazines. Most have been for the pastel landscapes with the biggest honor a year ago in Artists Magazine. The competition is opened to all mediums and artists all over the world. My pastel painting of an Iowa creek in fall colors won first place in the landscape competition. In the same magazine, which also holds a separate competition for artists 60 and older, I won first place in the abstract category." (Above, Summer Richness by Wegman)
Don't miss the podcast!