Art & the Apple
This orchard comes alive with fine art and fine apples.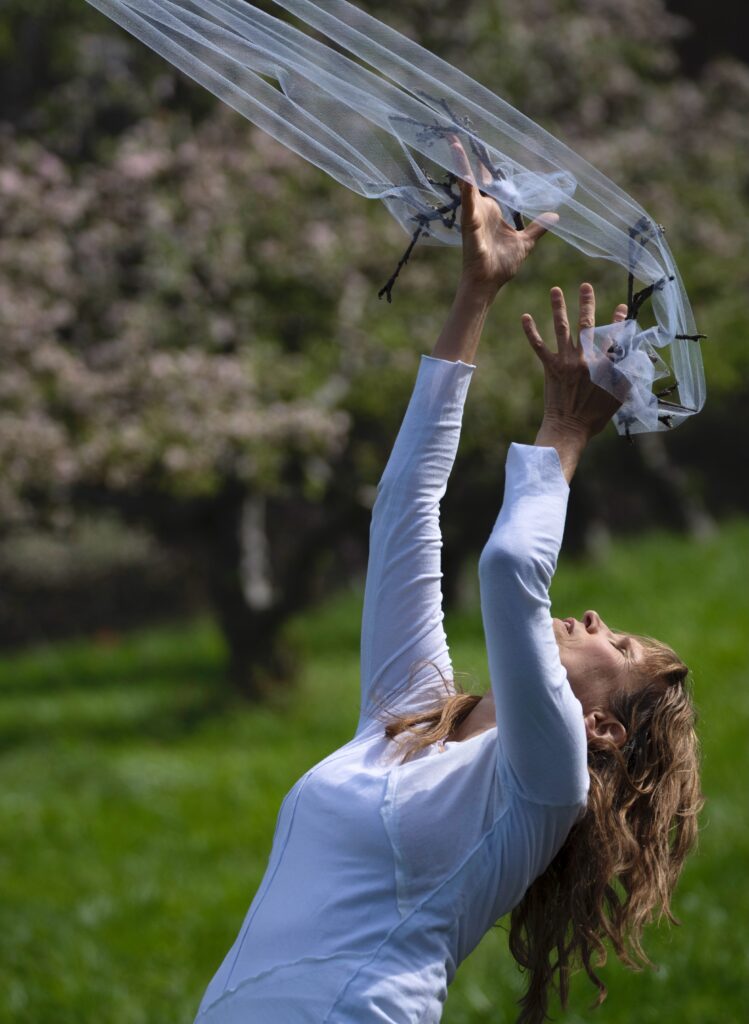 by Dean Houghton
Cherie Sampson is wearing white from head to toe, and a gossamer ribbon attached to twigs from an apple tree follows her movements in a performance that would be a sensation in Paris. The art critics would be swooning in London. Tourists would flock to see such a performance in Venice.
But this is not Paris, nor is it London or Venice. The site is Blue Heron Orchard near Canton, Mo., sitting high on a bluff overlooking the Mississippi River in the state's northeast corner. The performance takes place before an audience of one.
The spectator is a visitor, here to write a story about fine art and fine apples. It is supposed to be a story about how opposites attract; how Cherie, the world-traveling artist and college professor, met Dan Kelly, the quiet farmer who planted these trees and made this into Missouri's first certified organic orchard; and that they met later in life, she at age 40, when Dan was 50, with his roots already running deep into these loess soils, and they married, and they've spent the past 20 years seeing their disparate lives grow together and intertwine.
But life is complicated, and after a bit of conversation, it becomes clear that these two people are anything but opposites. Dan has the soul of an artist and the certificate to prove it, having received an art degree from the nearby Culver-Stockton liberal arts college, located just a couple of bluffs away in Canton. The orchard's blooming trees are surrounded by waving prairie grasses, creating a living art composition, and Dan has helped art, apples, and education intersect here through field days and other events that allow visitors to learn about topics ranging from tree care to straw-bale building techniques.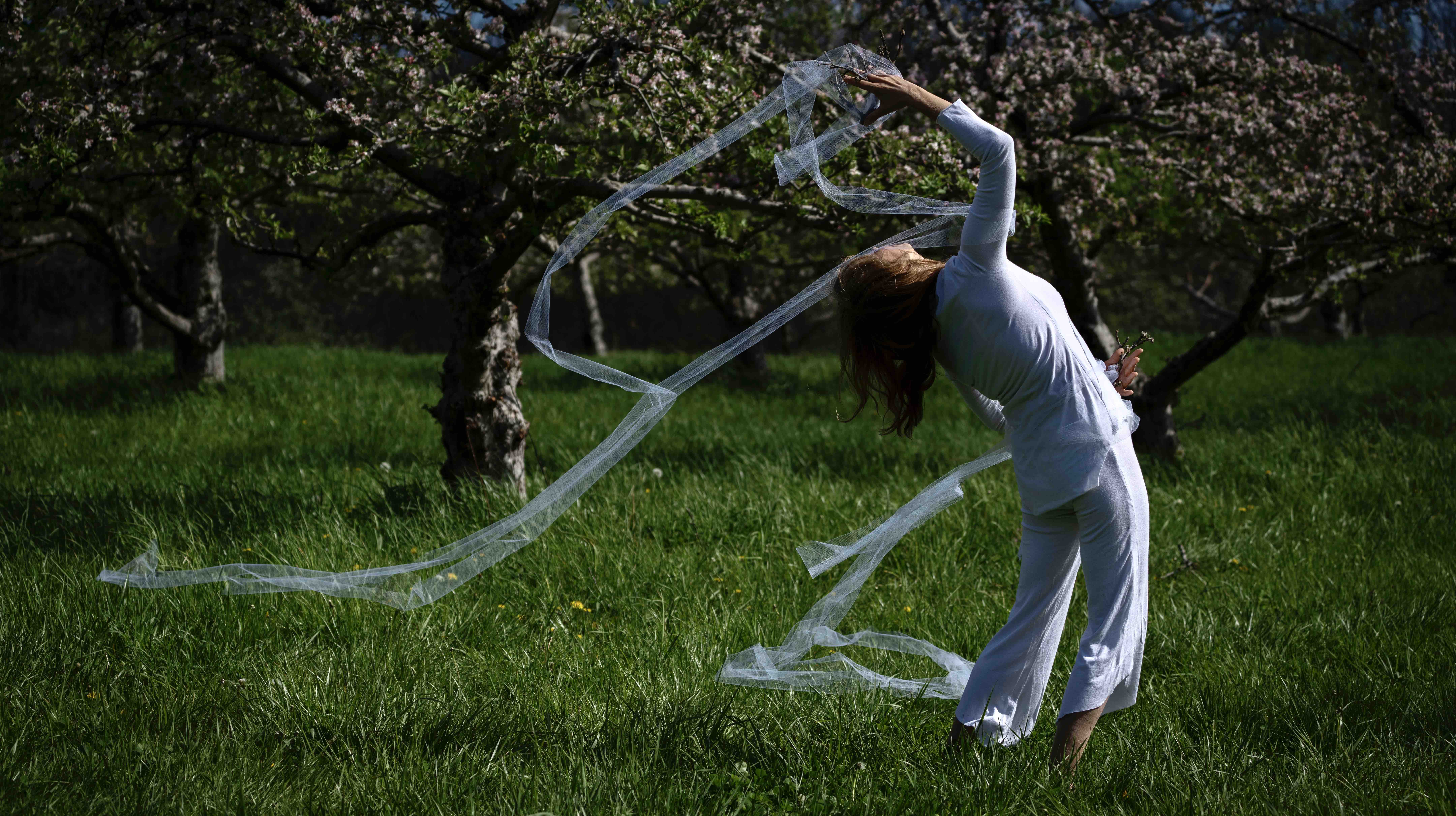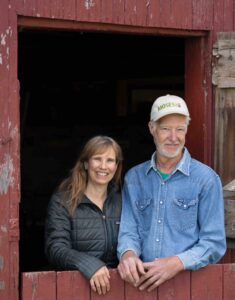 World tour. Cherie has worked more than 25 years as an interdisciplinary artist in environmental performance, sculpture, and video art (visit cheriesampson.net to see images from her work). She received two Fulbright Fellowships to Finland, a Finnish Cultural Foundation Grant, and three Finlandia Foundation Grants; she has performed and exhibited her art in a dozen or more countries.
She commutes from the orchard to Columbia, Mo., where she is a professor of art at the University of Missouri. But the orchard is home. "I've chosen to live in a rural place," she says. "That means my work probably doesn't get the exposure that it would if I had made the choice to live in one of the big cities. Like Dan, I made a lifestyle choice."
But the orchard does serve as a muse for her work, an outdoor studio, as it were. Pollinators took center stage in her video installation at Santa Fe's Currents 826 Gallery during the summer of 2022. Cherie spent hours documenting pollinator activity in video and projected the imagery in an installation made of silk organza and long branches pruned from the orchard's apple trees. The resulting work of art provided a means of exploring the fleeting quality of life—while also delivering a subtle message about the importance of pollinators in helping to provide the nation's abundant food supply.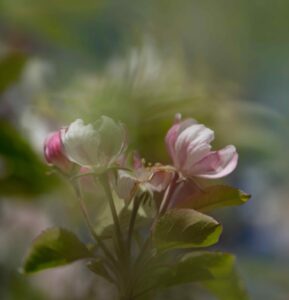 Back at the orchard, Dan continues to pursue the nexus between art and agriculture. His creative outlet is value-added products from the apple orchard as well as the organic vegetables that Blue Heron grows in summer months.
"Producing cider has always been my passion," he says. That cider finds its way to customers in a variety of forms; you might sample it as hard cider at the Columbia-based Broadway Brewery, or you might purchase an apple cider vinegar (or for a walk on the wild side, a habanero-infused apple cider vinegar) sold at farmers' markets or direct from the farm.
Dan credits Cherie with being his muse for the ever-expanding range of value-added products. "She brings her art to relevance in the orchard by encouraging me to think broad-minded, not just on production," he says. "We share ideas that stimulate me to use both sides of my brain."
Above: Cherie has traveled the world to present her environmental performance art but also finds inspiration in the orchard to create sculpture and new media artwork. Cherie Sampson and Dan Kelly intertwine their interests in fine art and fine apples at the Blue Heron Orchard in northeast Missouri. Some of her works have emphasized the beauty of apple blossoms and the fleeting nature of existence through the eyes of pollinators.
Reprinted with permission by Dean Houghton. Originally published for The Furrow, a John Deere publication.