An AgArts residency at the home of Alan and Nancy Meyer, "Little Green House on the Prairie"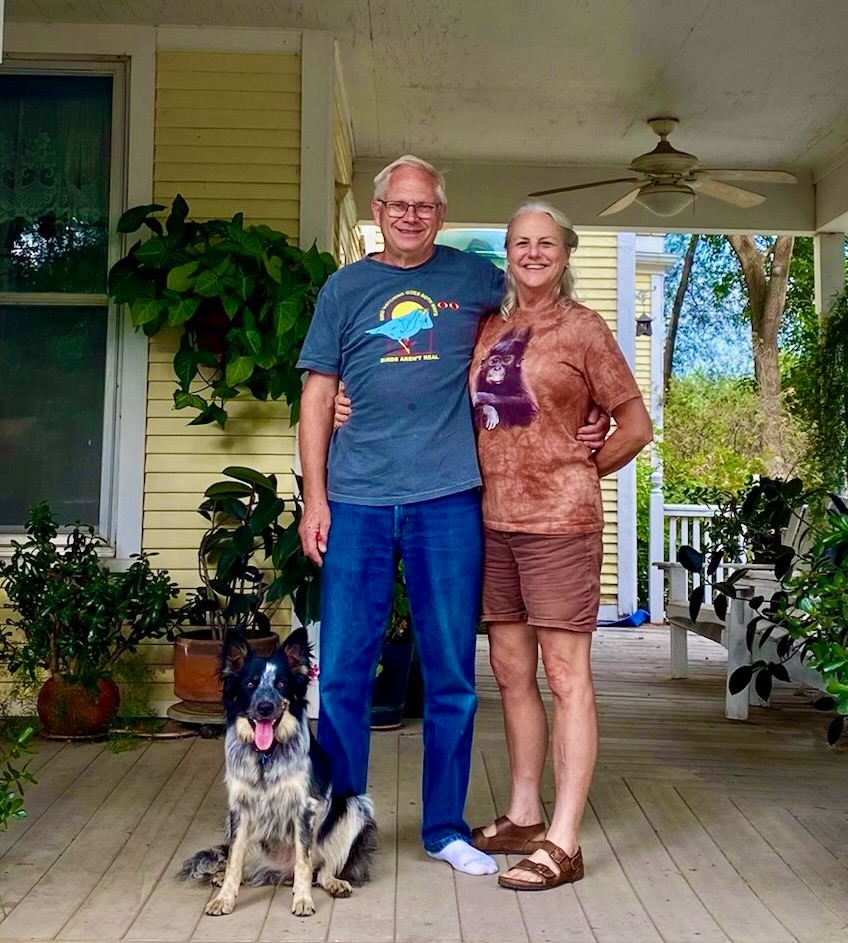 Location: (noun)
1. A position or site occupied or available for occupancy or marked by some distinguishing features. 
2. The act or process of locating.


   

 – Merriam-Webster



Location: Fremont, NE
Tourism Slogan: "Nebraska: Honestly, it's not for everyone"
Loose meat. Spices. Shredded cabbage. Onions. A tender pastry. I hadn't eaten a runza in over three decades, but in Fremont, Nebraska on a cloudless July day, I watch children riding bikes in front of the restaurant on E. Military Avenue as I clutch a classic runza between pinched fingers and taste all that is good in the world.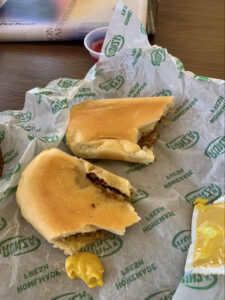 The first runza drive-in opened in Lincoln, Nebraska in 1949, but the German-Russian roots of the sandwich go back to the 18th century. Different culinary traditions offer something we can hold in our hands: kolaches, empanadas, perogies, calzones, bierocks, knish. Humble comfort that unites us all.
I could have been many places in the world having lunch today. But I am in Nebraska eating a runza under a bright cloudless sky, strewn mustard packages glinting like rays of sunlight. It is lunch time here. It will be lunch time everywhere. And I am hungry.
Location: Little Green House on the Prairie
"The history of every country begins in the heart of a man or a woman." –Willa Cather
I travel to Nebraska to spend a week with Nancy and Alan Meyer. Their border collie, Sadie, jumps  into my car as I open the door, greeting me upon arrival. The five-acre property that Nancy affectionately calls "Little Green House on the Prairie" is grounded by a farmhouse built in 1904, a barn, a garage and gardens that flank the north and east side of the house. Faded "Dean for President" shirts hang from the clothesline. 
Nancy and Alan moved to Nebraska 22 years ago to raise their three daughters; Alan grew up on a farm in Nebraska about 40 miles from their current home. In California, Alan was a self-employed contractor. His company name reflected his Nebraska roots and his love of science fiction: Cornhusker Intergalactic (CIG). Nancy worked as an analyst in middle management for Intel Corporation.
A Tesla and Chevy Bolt charge in the garage, and solar panels generate energy to run the house. The greenhouse Alan built using natural and upcycled materials, like earth-packed tires, is a precursor to the off-the-grid earthship home they will be building in Alta Vista, Colorado (population, 6) within the next few years.
Their current house may be four miles from Cedar Bluffs (population, 744), but the Meyers know their neighbors and have found kindred spirits in the area. Nancy is on three boards, one for an elected position and two for nonprofits, and spends as much time on Zoom meetings as she does harvesting vegetables in the garden for supper. 
As much as they have made connections with others, the Meyers have built a self-sustaining world, from the well water they drink to the electricity that charges their home, generated from their solar panels. Decisions are framed around what is best for reducing their carbon footprint, and while this can sound lofty to some, their lives are grounded in community betterment and engagement. These two are people of action, sawing fallen tree limbs on their property and showing up for causes that matter. Alan and Nancy want to leave their farmstead and their world a better place.
As we walk the property, Alan shows me where he will make biochar in cinder block encasements. Black carbon produced from biomass sources (in this case, fallen limbs and brush) is broken down and heated to transform into a more stable form that can be used to enrich soil, feed animals and sanitize and enhance filtration. For the past 2,000 years, cultures used this same biochar technique, understanding the elemental process of constructing, deconstructing and reconstructing. What may seem like a new idea for enhancement is an ancient practice. 
This home, going on over 120 years, has the possibility for an expansive future. Alan and Nancy want to use their farmstead and grounds as a place to teach others about their conservation techniques, from making biochar, utilizing a hugelkultur, keeping bees and building and running an off-grid greenhouse with a worm bin on the floor. 
This "Little Green House on the Prairie " is actually painted yellow, but the color that runs through everything here is green, green and more green. The foundational beliefs that have guided Alan and Nancy will be available to others through a teaching/demonstration/retreat/nonprofit center once the couple moves to Colorado. "If only we can find the right person to run it," Nancy sighs. Time for an updated version of the Homestead Act to encourage "green" pioneers to carry on this vision of centuries-old practices with a modern spin. 
Location: County Road Y
"I wanted to walk straight on through the red grass and over the edge of the world, which could not be very far away. The light and air about me told me that the world ended here: only the ground and sun and sky were left, and if one went a little farther there would only be sun and sky, and one would float off into them, like the tawny hawks which sailed over our heads making slow shadows on the grass." –Willa Cather

You can't go to rural south central Nebraska and not think of food. Gravel roads border endless fields of corn and soybeans, their uniformity a zen-like invitation to ponder the infinite. The sheer amount of green abundance humbles. It would seem America doesn't need to be made great again when gazing upon fields ablaze with golden corn tassels. But corn and soybeans are used as the main source for livestock feed and for fuel ethanol, not food consumption. 
In America, we are a land of more. More space. More growth. More plenty. Yet the pioneer promise of freedom and expansion is eroding like the farm soil itself and drying up like the water sources needed to keep crops growing and animals watered. Most Americans have no idea where the food comes from that fills their dinner-time plates.
A few miles from Nancy and Alan's house, the sun glints off the metal roofing of a CAFO, a concentrated animal feeding operation that produces half a million chickens every seven weeks for slaughter and sale at Costco as Kirkland Signature Rotisserie Chickens for $4.99. Costco sold 106 million rotisserie chickens globally in 2021 and plans continued expansion into new markets. The CAFO sits off County Road Y outside Cedar Bluffs. If you didn't know what to look for, you may not realize the CAFO is there, unless you heard the nighttime rumble of semis coming in and out to pick up the birds for processing.
In the early morning, I walk these same roads. The endless sky makes me feel small, and the clouds command awe and attention. The sun rises each day to birdsong and breeze. If I get a late start, the yellow exclamation point of the crop duster's plane punctuates the sky as it drops large amounts of pesticides on the surrounding corn and soybean fields. Days later, I will find gravel in my shoes from this walk, the roads of Nebraska traveling with me wherever I go.
Location: Hideaway Farms
"A pioneer should have imagination, should be able to enjoy the idea of things more than the things themselves."
–Willa Cather
Ten miles from the CAFO, down a long gravel road, I meet Andrew Tonnies, Nancy and Alan's friend and owner of "Hideaway Farms," a 16-acre farm outside of North Bend. He's cleaning carrots when I arrive, and his son, Henry, still in his pajamas, makes a loop through the farmyard to check out the new arrival. 
On this regenerative farm, Andrew grows crops and animals in a compatible way with nature. The pig manure from his 20 pigs – a mix of Berkshire, Hampshire, Tamworth, Mangalista, Meishan and Kunekune – enriches the garden soil. And mushrooms sprout unexpectedly beside celery stalks. He jokes that he should have named the farm "Don't Do What I Did Acres," but his years growing up on a farm in Nebraska and participating in FFA instilled an understanding of how the soil works. His undergraduate work at Wayne State, and his graduate work in Australia to prepare for a job in the foreign service, also helped him with the research skills he uses to run the farm. And while he might not be working at a foreign embassy, he is running for a seat on the board of directors for the Lower Platte North Natural Resources District.
Andrew's farming practices may be grounded in tradition, but he uses social media to build his brand. His Facebook friends are treated to videos of his pigs frolicking in the pasture, and he jokes that "happy pigs taste better." He's invited 500 customers and friends to a hog roast to showcase how tasty the meat is. 
Today it's a quiet Tuesday morning, but on the previous Sunday, the farm buzzed with folks helping with the chicken slaughter. The first step in the slaughter is to catch the chicken and place it in a funnel that resembles an orange traffic cone; upside down, the chicken is calmer in the more confined space. The throat is slit and blood is drained. Then the chicken is placed in a scalder of boiling water for about a minute before being placed in the plucker. Handed off to his wife and crew in the kitchen, the chicken is gutted and processed. Hours later, the refrigerator shelves are stacked with 60 chickens before being moved to the freezer to await delivery to families as far away as Omaha, connecting farmer and consumer.  In the words of five year-old Henry, who watched these chicks grow up over the past eleven weeks, this process is "cool."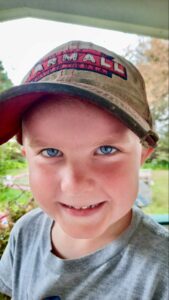 As I prepare to leave, Andrew and I talk about other places where I should visit in Nebraska. He suggests a return visit in the spring to see the migrating sandhill cranes. Henry advises me to go to Legoland, not quite in Nebraska, and not quite what I was looking for. What Henry might not realize yet is that his father is building a world brick by brick by brick, interlocking pieces to build a business and a model of sustainable agriculture. Although the process may entail mistakes and missteps, the bricks end up fitting together like the rows of kale and cabbage, fed by chicken manure worked into the soil and watered from the well. Working with nature, things are less likely to fall apart on Andrew's farm. One brick at a time.
Location: Maple Grove Cemetery
"We, who are last year's dust and rain, have risen from that dust to look about with the devised crystal of a raindrop, before we subside once more into the slow and whirling vapor." –Loren Eiseley
I don't make it to Legoland, but I do stop at the Maple Grove cemetery on County Road 16 near Cedar Bluffs. The coo of a mourning dove punctuates the whirl of the occasional traffic noise coming from passing cars. It's just me, some crickets and the dead this morning.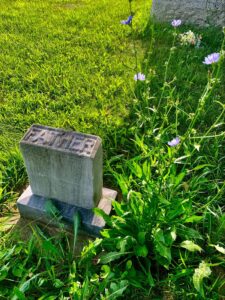 One of the largest tombstones is for the Williams family, the family who built Nancy and Alan's farmhouse, early homesteaders in this land of mixed-grass prairie. Family names are etched in the limestone, dating back to the mid-1800s. "Mother" and "Father" headstones surface amidst the stray flowers sprouting from the dry earth reminding me of the universality of death. Mother. Father. Child. 
I think about how names matter. Whose names are not represented who also had connections to this land? Whose stories have been left untold?
A train whistle blows in the distance, one of the loneliest sounds I know. Down the road, a billboard offers this message: "Jesus, I trust in you."
Location: Hawley Hamlet
"Where there is great love, there are always miracles." –Willa Cather
At Hawley Hamlet, the food chain is as short as the front yard to the dinner plate. This urban agriculture project – 28 households working collaboratively to feed family and friends on four-fifths of an acre – is located in Hawley Historic District in Lincoln between 25th/26th Streets and T/U. The gardeners come from the block itself or from surrounding residences.
Remarkable? Not if you speak with Tim Rinne, one of the founders of Hawley Hamlet. "We win awards for growing food and talking to our neighbors. Since when should that be viewed as extraordinary? People have done this for centuries."
For years, Tim grew Roma tomatoes in the same plot of land in his yard. It won't come as a surprise that he didn't have the best luck with those tomatoes. But rather than zip off to the grocery store to buy perfectly formed tomatoes by the pound, Tim tore up his front yard, convinced he could envision a better way to grow and consume food. And this better way wasn't some newfangled idea gleaned from garden influencers. Old world knowledge about soil quality, crop rotation and resilient crop selection underscores the ethos of Hawley Hamlet. 
And this central question comes from Tim as he digs up potatoes under a light rain: "Why do we always plant things we can't eat?"
What superhero skills are needed to fight climate destruction and the ensuing food shortages? The willingness to do something and to start small. It's easy to feel weary when confronted with the weighty ills of an imploding world. What did Tim's wife, Kay Walter, do? She used her skills as the founder of the Center for Digital Research in the Humanities at the University of Nebraska, Lincoln and started researching edible landscape techniques. And what did Tim do? He started ripping out his lawn.
The morning glories that bloom on vines are beautiful in this garden, and so is the dance between Tim and Kay as they navigate their evolving marriage in this space that is smaller than a football field. Revolutionary ideas can take a toll on individuals and couples, and Tim's body aches show the wear and tear of physical toil. But he and Kay draw upon one another's strengths and skills to make this hamlet vision a reality. 
You won't find Kay with a hoe in her hand, but you will find her in the kitchen, canning green beans, freezing tomato sauce and planning meals. She handles administrative matters for the garden to keep the place running (including acquiring properties and handling the books), researches grants to fund future Hamlet endeavors, gives garden tours and, as Tim says, "troubleshoots and plans next steps in the gardening cycle."
Much like the garden, they didn't decide as newlyweds that running a hamlet would be a part of their marriage; they took this idea plot by plot when navigating how to implement their core values of self-reliance and stewardship.
It's not just the grounds that Tim and Kay tend, it's the houses on this city block as well. They have purchased some properties in the Hamlet and renovated them. Renters are selected for their willingness to get their hands dirty and to contribute to the common vision of the Hamlet. Neighborhood expectations here stray from a suburban ethos. You want to turn over your front yard to tomatoes, herbs and beans? Yes! In this two-acre city lot, a sense of mindful and abundant growth spills forth from porch to sidewalk and beyond.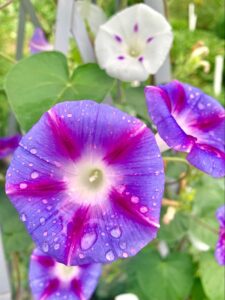 This isn't a project of two, but a project of many. The entire community on the block and some surrounding neighbors make this plan a reality. Bees, chickens, compost bins, berries spilling over fence rails for anyone to pick… this space invites neighbors to show up in all kinds of ways, welcoming different tastes and interests and accommodating varying skill levels and time commitments. 
Those who want to be involved with the Hamlet can be involved, and Tim and the other experienced gardeners meet with those new to the Hamlet to help them gain their footing in their garden plot. A shed is nearby that holds tools for the borrowing, and a common compost pile offers organic matter for the taking. The water source is provided, and short of being able to call forth sunshine and rain, the Hamlet crew do all they can to empower gardeners to give this vision a go. 
If I ponder food insecurity, I don't think of "hope" as a word that comes to mind. But that's how I feel as I walk between connecting alleyways and see the energy of the Hamlet. Barrie, Tim and Kay's neighbor, steps out onto his front porch to talk about the chickens with Kay. Returning inside the house for a moment, he emerges with garlic that he hands to Kay. It's the very ordinariness of this garlic exchange that gives me hope. Barrie had extra garlic. He shared it with Tim and Kay. Neighbors taking care of neighbors. That's a revolution I can believe in.
Insurrection doesn't have to look like raised fists. Insurrection doesn't have to involve yelling or protests. Insurrection may require sacrifice, but it can also invite plenty. It can look like an elfin woman in pearls and her husband in dirty white clothing wielding a hoe. And power shifting can look like folks from Guatemala and China and Sudan gardening side by side, strengthening urban neighborhoods. Kale and pole beans grow, and along with the crops, community takes root, uniting neighbors in a shared connection, feeding and nourishing all involved.
Location: Saunders County Fair and Parade
"Like the herd animals we are, we sniff warily at the strange one among us." –Loren Eiseley
Alan, Nancy and I walk through the Saunders County fairgrounds and carnival. The Saunders County Fair has been held on these grounds since 1884. A full parking lot leads to a beer tent, a bingo hall, live music, and a mini-roller coaster and ferris wheel, among other rides. We pass through the livestock barns and marvel at the beauty of the poultry and at the size of the rabbits. Young children tuck pigs in for the evening and the dairy goats clamor for snacks from any outstretched hand. 
The 4-H displays draw me in more than the tilt-a-whirl ride and the bumper cars. The photos of family cats and sunsets, the homemade aprons and potholders, the variety of cinnamon rolls and pies…everything is both ordinary and remarkable.
Growing up in a city, I never understood what 4-H was all about. I had a vague image of farm kids showing animals, but that notion is reductive. I had no idea that 4-H stood for "head, heart, hands and health." For the past 120 years, kids have participated in this learn-by-doing approach to education. The 4-H motto, "To make the best better," is on display in the beautiful quilts and cookies and breads and floral arrangements and table setting decorations. Sure, there is a competitive aspect to these entries, but blue, red and white ribbons signify the places entries earned rather than signifying which entry came in first. 
There's a silk green banner with the 4-H pledge hanging over the foodstand counter: 
I pledge my head to clearer thinking
My heart to greater loyalty
My hands to larger service
My health to better living
For my club, my community, my country and my world.
These projects, often aided by family members and neighbors, use creativity and collaboration – and draw on decades of tradition – so individuals can better the community through effort. The simple gesture of entering a homegrown tomato in a contest might be all we need to remind us of what's possible in the world.
Thursday night we return to Wahoo, and the temperature is over 90 degrees at the start of the Saunders County Fair parade. The sky is midwestern blue stretching an impossible distance. A breeze would be nice, but the trees are the only still objects in the midst of preparade enthusiasm.
Families line the streets in lawn chairs that have been placed by the curb hours before the beginning of the parade. Grandparents bounce babies on knees, and mothers enjoy moments of freedom as small children run circles with friends waiting for the floats to pass by.
The parade begins in front of the Chamber of Commerce office and ends in the swimming pool parking lot. Decorated cars and trucks, enormous tractors and farm equipment, the Wahoo High School Warriors marching band and cheerleaders and more firetrucks and EMS vehicles than I have ever seen in one place loop up and down the route. The Knights of Columbus float sports an oversized birthday cake with the slogan, "Everyone Deserves a First Birthday." The local priest from the St. Wenceslaus Catholic Church walks alongside the float that is weighted by young children along for the ride. 
A State Farm agent offers free hot dogs on the lawn of the Svoboda Funeral Home on Linden Street, and the line stretches past the curb and spills over into the small crowd gathered around the Nebraska Democrats car. Marching with the Nebraska Democratic Party float means outing yourself in a very public way in this red state. It means enduring some eye rolls and boos. It means being pretty certain that your candidate won't win, but showing up anyway to place candy in the eager hands of children. Swedish Fish. Tootsie Rolls. Sweet Tarts.
After the parade, about 20 campaign shirt-wearing Democrats gather on the Johnsons' lawn and front porch. The night is still warm, but slabs of watermelon and cold Coors Light help to cool us. Wagyu beef hamburgers from a fourth-generation family farm that has transitioned to organic sizzle on the grill. Nestled between pillows, I eat on the porch swing while chatting with two women also named "Karen," one in her 70s and one in her 60s.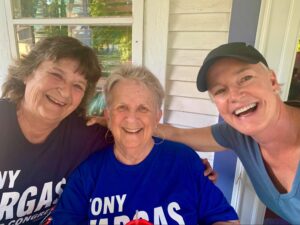 I ask them about a liquor store I noticed on the drive into town. A few blocks from the Johnsons' house, Karen's Spirits and Smokes claims prime real estate on Chestnut Street. Karen's Spirits and Smokes adopted the store name after the explosion of Karen memes around the time of the Black Lives Matter movement. When I was born in 1965, "Karen" was the most popular baby name. Now it's shorthand for a middle-aged white woman who makes demands of store managers, symbolizing white privilege and racism. And this is the association the liquor store owner wanted in selecting the name.
In our porch conversation, we three Karens find much to get angry about, from elder abuse to the inequities of school funding. We also find much to laugh about, from the ways we spoil our dogs to the size of the cookies someone brought to the picnic. We will never see one another again, but for a moment on that porch, dusk settling around us, we are united by name and understanding.
Location: Little Green House on the Prairie
"A goal, in itself, is an empty thing; all the virtue lies in the moving toward the goal." –John Neihardt
The smell of a still-warm rhubarb pie fills the kitchen as I lean on the island watching Nancy tidy up. A colander of freshly picked green beans stands at the ready, along with peppers and onions harvested moments ago from the garden. Ruth Bader Ginsburg presides over the happenings in the kitchen, her image on a poster near the doorway to the dining room. Despite the sense of abundance and plenty, we talk of aging and health and how to best use the resources we have in our remaining years, much like Ginsburg did.
After Nancy's sister-in-law died on Flight 93, Nancy felt called to speak up. She became active in Peaceful Tomorrows, an organization founded by family members of those killed on September 11 who have united to turn grief into action and peace. Nancy wrote editorials and gave presentations on behalf of the Peaceful Tomorrows organization. While she knows she can only do so much to change minds, especially in rural Nebraska, she did win an elected office on the board of directors for the Lower Platte North Natural Resources District. She has knocked on doors for her campaign and others, marched in parades, attended meetings, written letters to the editor and sent postcards. She stays informed on issues close to her heart, both local and national.
She has written more than 60 editorials that have been published on Dailykos, a liberal blog site. From articles on climate change and fighting the Keystone XL Pipeline to bringing in a Muslim American vet to a 6th grade classroom to talk about what Islam really is, Nancy works as a change agent and steward of the land and community. As a board member for the Center for Rural Affairs and for the Nebraska Land Trust, she leads the charge for clean energy, brings attention to decarbonization goals and pushes power utilities to invest in renewable energy. Alan is also a letter writer and protest attender. Their reach goes well beyond their small Nebraska town. 
The pie has cooled and is ready to eat. The rhubarb was grown in the garden and the pie crust was made at the granite island in Nancy's kitchen. It would have been easier to buy the pie at the Hy-Vee in Fremont, but all of this effort nourishes me beyond the sweetness of the ice cream and the tartness of the filling.
Location: Morse Bluff, NE
"There's nothing here out of the ordinary, yet there's drama here. There's deep grief here…the quiet kind…there's service…great joy…deep love." –Bess Streeter Aldrich
Nancy's friend, Ed, took off for a fishing trip in North Dakota with his grandson. That means Nancy has a morning shift to feed and water Ed's chickens. We arrive at Ed's place before 9 o'clock to the strutting of Rhode Island Reds and Leghorns as they burst into erratic dashes over the thinning grass.  One bird, a Cochin, fluffs his feathers and preens in the morning sunshine watching me with a beady brown eye, his coat a tattering of molting feathers.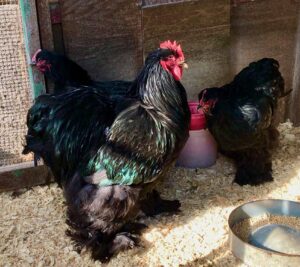 At 92, Ed has slowed slightly this past year. A bout of cancer means he's thinner than he used to be, and he's stiffer and more stooped due to the cancer in his hips and spine. But he's out here with the chickens several times a day, moving from coop to coop, hauling water and feed. One of his sons and a granddaughter live within blocks, and neighbors make sure he's looked after each day. Ed's cat, Rona, needs her back scratched and belly rubbed. Sustainability is more than soil quality and crop rotation. Human flourishing is a sustainability practice, and in Ed's case, connecting with friends and family and moving his body to meet his daily caretaking obligations is enough to keep generating energy.
"Don't turn your back on a rooster. They'll attack and peck your legs," Nancy warns as she juggles buckets of water, heading to the coop. I know this rooster, a Buff Orpington, senses my fear, realizing I don't know the first thing about poultry, even though I'd eaten plenty. 
According to food historians, humans have been eating eggs for six million years. Six million years. After we duck into the cool darkness of the coop to feed the Cornish Cross broilers, Nancy points out an egg in a nearby coop for Rhode Island Reds that is ready to be collected. I reach in the nesting box just as humans have done for centuries. The brown egg warms my hand as I hold it carefully while we finish feeding the chickens. The egg hums with promise. It will feed me when I come home. That egg, fragile and sustaining, matters most.
Copyright © 2022 by Karen Downing
Photos courtesy of Karen Downing, Nancy Meyer, Ed Zeleny and Andrew Tonnies.